Les calibres 8, 10, 12, 16 20 et 24, vous connaissez évidemment !

Et les calibres 28 ou les 9, 12 et 14 mm ? Aussi sûrement !

Mais les calibres 4, 14, 18 ou 30 ?
Ou bien les 32 et 37 mm pour canardiére ?
Ou bien encore les calibres 2, 11, et le 13 mm ?
Et les 6 et 7m mm Rim Fire ?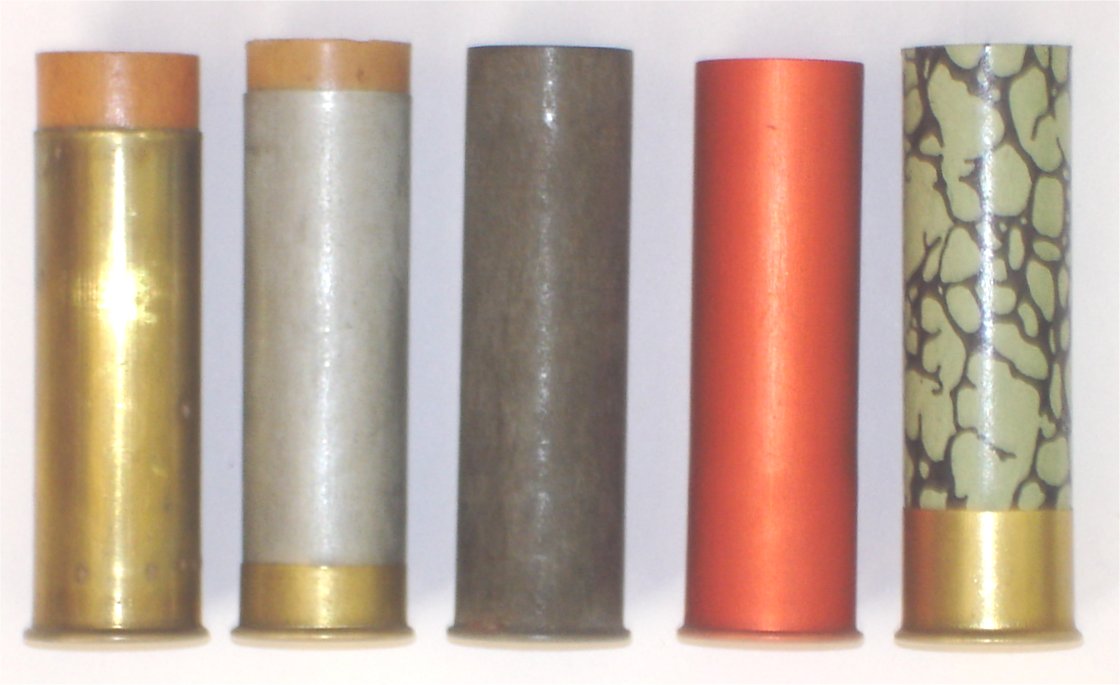 Différents étuis en calibre 16
Samples of 16 gauge cases
The 10, 12, 12, 16, 20, and 24 gauges, you know them of course!

And the 28, 32 and 36 gauges also surely!

But what about the 4, 14 and 18 gauges ?
Or the 1 ¼ and 1 ½ inches punt gun shells?
Or the 3 and 11 gauges?
And what about the 6 and 7 mm RF Flobert ?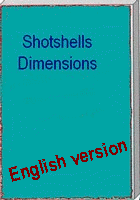 Eh oui ! Tous ces calibres ont bien existés.
Toutes ces cartouches sont décrites dans ce livre.
Plus de deux cent calibres de chasse différents !

De la 50 mm pour canardière à la 4 mm RF!

La valeur exacte d'un calibre variant suivant les pays, vous trouverez pour chacune d'eux :
-les dimensions exactes de chacun des grands fabricants de l'époque (Eley, Kynoch, SFM, DWM, Utendorffer, Remington, etc).
-une photo.
-le tracé d usine ou la reproduction de la page du catalogue d'époque l'illustrant.

On y trouve des cartouches provenant de tous les pays :
Angleterre, France, Italie, Autriche, USA, Japon, Brésil, etc...

Pour chaque calibre il y a description des différentes variantes :
-étui carton ou tout laiton ou tout acier,
-les différentes longueurs de douilles correspondantes.

Les trois grandes familles d amorçage sont traitées :
-Percussion centrale,
-Percussion annulaire,
-Percussion à broche
ainsi que celles moins répandues telles que :
Berringer, Collath.

Cet ouvrage sera bientôt disponible,
consultez ce site de temps en temps.
.

1 1/2 inches, 12, 6 mm RF
All these gauges and calibers did exist!

They are described in this book.
More than 200 different shotshells calibers !

From the 2 inches punt gun shell to the 4 mm RF!

In these old days, the exact value of a gauge depending of the country, you will find for each gauge:
-the exact dimensions of each of the major manufacturers (Eley, Kynoch, SFM, DWM, Utendorffer, Remington, etc),
-a picture
-the factory drawing or the copy of the old catalogue illustrating it.

You will find shotshells coming from all the countries:
Great Britain, France, Italy, Austria, USA, Japan, Brazil, aso.

For each gauge there is a description of all the variants:

-Paper case, all brass and all steel cases
-the different case lengths for each variant

The most common different priming are treated:
-Center Fire
-Rim Fire
-Pin Fire
And also some less known like:
Berringer, Collath, aso.


This book will be soon available.
Take a look on this web site from time to time.
.